ALIS: induction Power technology Poultry Lighting
The AgriLamp Induction System (ALIS) is a 'contactless' power technology that allows the LED device (ALIS-Luminaire) to be clipped onto the cable (ALIS-Bus) without a physical connection. It works on the principle of distributing a highly regulated and safe intermediate frequency alternating current (IFAC) constant current over ALIS-Bus to the ALIS-Luminaire.
The ALIS system works by distributing highly regulated, safe and constant current over the cable and LED fixtures. The system consists of four main components: the bulbs, the cable, the power hub, and an optional dimmer.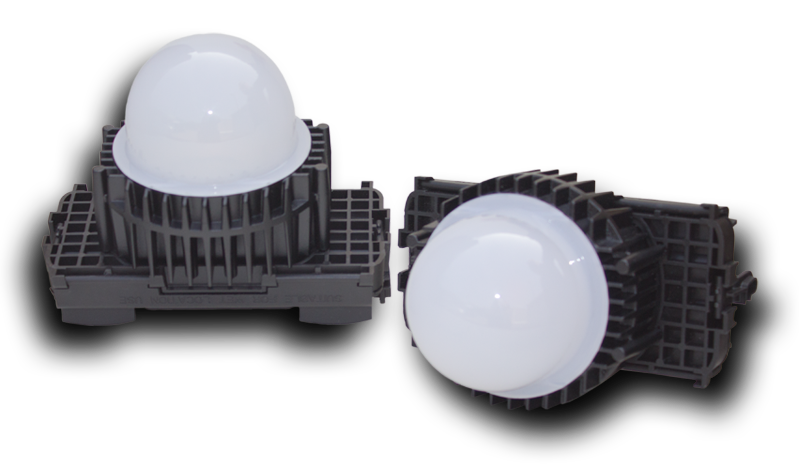 TECHNICAL INFORMATION
Light Source
8W High Power LED
Luminous Flux
550 lumens (8W ALIS-Luminaire)
Optics
Optical grade milky white standard and tulip polycarbonate lens
Connection Type
Clip-on
Dimmer Option
100K potentiometer or 0-10V
Rating
IP65
Rated Life
40,000 Hours or more
WORKING ENVIRONMENT CONDITIONS
Ambient Temperatures
-20°C to 55°C
Humidity Range
0 to 95% humidity
ELECTRICAL SPECIFICATIONS
Input Voltage
220/240Vac 50/60Hz
Power Factor
>0.95
Total harmonic distortion
<20% nominal
FEATURES
Rugged Build
withstands the toughest environmental conditions
Energy Efficient & Environmentally friendly
LEDs are significantly more energy-efficient
than traditional bulbs, and there is no mercury
Safe Power Delivery
extremely safe and totally waterproof
Simple to Install and Reposition
Smooth dimming effect
Specifications are subject to change without prior notice