EPA Led Symmetry Control Dimmer Unit
The EPA LED Symmetry control dimmer was designed with micro processor control to eliminate flicker associated with dimmable Led lights. Simple installation can be retro fitted to most lighting systems when up grading to Led lighting. There is no requirement to install lighting filters / chokes or snubbers.
Features
Designed and Manufactured for dimmable Led lights
Micro Processor control self stabilising to eliminate light flicker.
Suitable for a wide range of AC main power supplies
Simple installation.
Agricultural – Horticultural – Aquatic – Industrial and Home Automation Lighting Systems.
Warning: (never connect any Snubber or Inductive loads to the dimmer as it will cause permanent damage.)
Features
Specification
Power Regulator:
Maximum Load 2500W (with adequate heat dissipation)
Supply Voltage Range:
85V AC – 265V AC 50/60Hz
Control Signal:
0-10v / 5K Potentiometer
Part No.
REGU19
Kit complete with potentiometer, knob & dial
REGU19KIT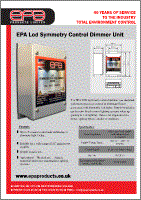 Download
LED Symmetry Control Unit Datasheet PDF