Lighting Systems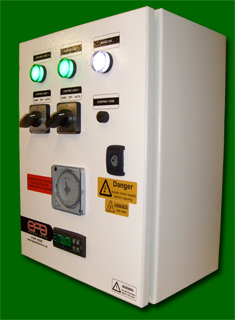 Lighting systems and lighting control are an essential part of any agricultural plant, in particular poultry farms. EPA supplies a range of lighting control panels for agricultural use, as well as systems for the control of tungsten fluorescent lighting, LED and dusk and dawn control systems.
Many of our systems are customised to suit individual needs, such as water resistance to IP65 from suppliers such as Disano, Littledown & Saxby, and EPA is always willing to discuss requirements to suit. We also hold a wide range of spares including diffusers, chokes, transformers, tubes and tube holders. In particular, large discounts are available on a range of replacement fluorescent tubes.
Digital Dusk and Dawn Lighting Control
EPA has introduced a digital dusk and dawn dimmer control. The digital dusk dawn control has been designed to be used with the EPA high frequency energy saving fluorescent lighting and tungsten lighting. Basic on/off times are still adjusted on a standard 24-hour lighting control clock. The first set of digits is the time span for lighting ramping up and down is adjusted from 0-30 minutes. The second set of digits is the desired brilliance adjusted as a percentage.
The units are made from shatterproof polycarbonate. The unique ramp up circuit brings the lights up gradually to its preset intensity with no flashing to frighten the birds. Units are available with or without time switch, and special higher capacity units with the option of individual lane switches can be built to specification.
The memory is not lost during a power failure and as an extra saving at 0% lighting after a short period the control circuit opens completely switch the lighting completely off.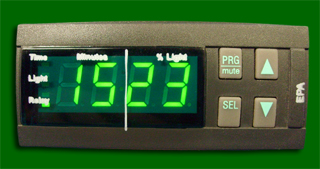 Specification
Ambient Temperature:
0° to 50°C.
Storage Temperature:
-10° to 70°C.
Power Supply:
12v – 24v AC/DC +/- 10%
Power Consumption:
3VA Max.
Contact Rating OP1:
8A @ 240v AC resistive.
Electrical Life:
200,000 operations at rate load.
Part Number
C0NT01
Dusk Till Dawn Programmable Lighting Control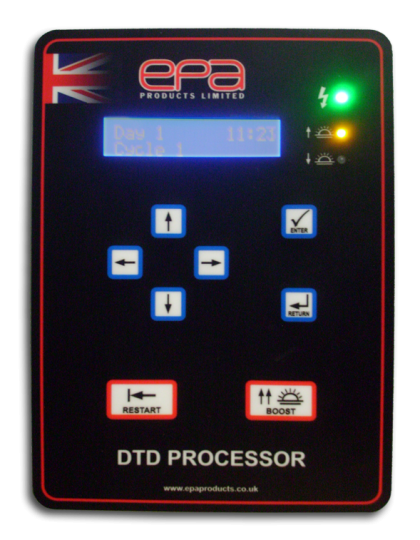 The DTD (Dusk till Dawn) lighting processor
control is a versatile simple to use unit, fitted
with its own internal time clock, eliminating the
need for a separate time clock and the ability to
set a real time lighting pattern.
The unit is primarily designed to work with any
of the EPA Products and Agri- Lamp lighting
systems
Including ALIS System
Features
Lighting pattern works in real time with the age of the flock.
Independent ramping up time / ramping down time.
Lighting Boost Facility to over ride the lighting intensity for a preset duration (eliminates human error)
Two independent lighting controls for split lighting system A & B Control
Simple Mode Setting Switches for single channel or two channel operation and enhanced lighting pattern.
Alarm output for lighting control power supply failure.
Power Supply 85vac – 250vac 50/60Hz.
Input for 12vdc UPS Power Supply.
Lighting Control output 0 – 10v signal.
EPA Led Symmetry Control Dimmer Unit
The EPA LED Symmetry control dimmer was designed with micro processor control to eliminate flicker associated with dimmable Led lights. Simple installation can be retro fitted to most lighting systems when up grading to Led lighting. There is no requirement to install lighting filters / chokes or snubbers.
Features
Designed and Manufactured for dimmable Led lights
Micro Processor control self stabilising to eliminate light flicker.
Suitable for a wide range of AC main power supplies
Simple installation.
Agricultural – Horticultural – Aquatic – Industrial and Home Automation Lighting Systems.
Specification
Power Regulator:
Maximum Load 2500W (with adequate heat dissipation)
Supply Voltage Range:
85V AC – 265V AC 50/60Hz
Control Signal:
0-10v / 5K Potentiometer
Part No.
REGU19
Kit complete with potentiometer, knob & dial
REGU19KIT
DTD Dusk Till Dawn and Symmetry LED Lighting Regulator EMC Test Report
Low Frequency Dimmer Unit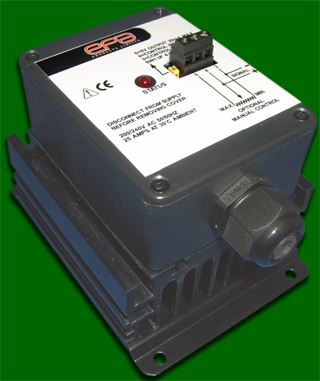 The EPA Dimmer Controller for LED and Low frequency lighting is available for single phase, 230V applications. They can control loads of up to 25A, with a number of signal control options. The controller comes complete with appropriately rated High Speed semiconductor fuses and an integral heatsink.
Features
Single entry cable gland.
Massive 0.3 C/Watt earthed heatsink.
Semiconductor fuses fitted
Simple installation.
Optional input control
Specification
Power Regulator:
25A, AC
Supply Voltage Range:
200V AC to 2240V AC 50/60HZ
Control Voltage DC:
0v Min ~ 25v Max.
Operating Temperature:
0°C Min ~ 65°C Max
Part No.
REGU16
Kit complete with potentiometer, knob & dial
REGU16KIT